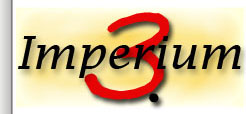 The estate agency "Imperium 3" was founded in 1999.
We specialize in selling, buying and letting properties,
such as, houses, flats, commercial properties and land.

The entrance of Poland into the EU gave us a great opportunity
to broaden our horizons and present our properties
to foreign customers. Because of the location of our office
in the centre of Poland and cooperation with other agents
we are able to offer properties throughout the whole country.

Our business is also a locating specialist for property according to customers' requirements.
We guarantee fair and honest property transactions and best service for our customers.